Based in Vinyasa Flow, which is Linking Breath-to-Movement and Movement-to-Movement, classes are open to all levels.
With various options to suit different abilities – and your individual needs that day – sessions tap into classical Hatha Yoga, Iyengar, Power yoga, Yin and Restorative Yoga – amongst others – and always end with a deep relaxation.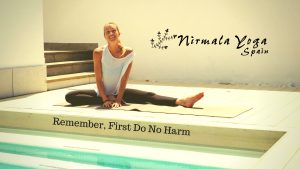 ---
(more details and photos below)
PRIVATE SESSIONS
Estepona & Marbella – Personalised 1-2-1 or group sessions on the beach, at work, on a boat or in the comfort of your home.  Also available in Ananda Mandira Studios near San Pedro by arrangement.
PUBLIC CLASSES
Taught in ENGLISH & SPANISH.
MONDAYS
9.15-10.30am – Centro Bio Breakfast Club – This is a gentle class perfect for slowing down, coming back to yoga or if you're starting out. Small and friendly group.

TUESDAYS
10-11.15am – Outdoor Beachside – FOR THE SUMMER, the Tuesday Las Lomas class will be held next the sea, close to Wild Estepona Restaurant. Please message if you'd like to join a beachside session and/or to be added to the El Padron Yoga whatapp group +34 677 066 162
WEDNESDAYS
8-9.30am – Outdoor @ The Birdsong Retreat, El Padron – Join us for an extended early morning session in a beautiful, paradise garden. Included organic detox juice! The perfect way to start the day.
THURSDAYS
9.15-10.30am – Centro Bio, Cancelada – This is a gentle class perfect for slowing down, coming back to yoga or if you're starting out. Small and friendly group.

FRIDAYS
10-11.15am – Las Lomas, El Padron – A class with stronger options to build strength including arm balances and inversions but with gentler options to ensure you get what you need.
---
Private One-on-One Sessions

Deep Relaxation  *  Explore around Injuries & Other Conditions  *  Increase Flexibility  *  Work towards a Specific Pose  *  Strengthen & Tone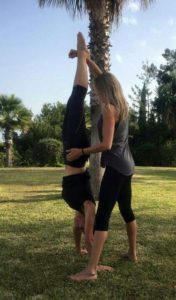 Private Group Bookings
Tailor-made sessions to enhance your Holiday.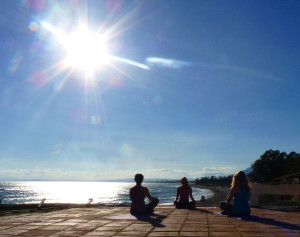 Collaborate on your Spanish Retreat.
Chartered Sailing & Yoga Trips.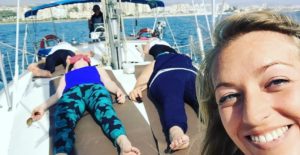 Cross-train Your Sports Team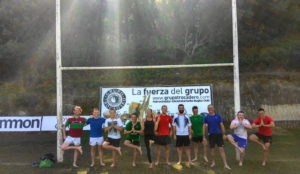 Bespoke Corporate Wellness.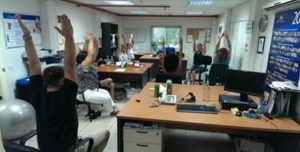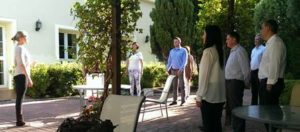 ---
Public Classes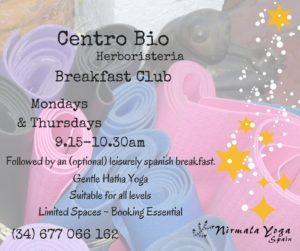 If you're new to yoga, coming back after a break or like a gentler class working on building strong foundations and alignment, the Breakfast Club classes at Centro Bio are perfect. Limited spaces means more personal attention as well as nurturing a very cosy community of down-to-earth yogis. Our optional, informal "satsang" takes place afterwards in a nearby Spanish cafe (where, yes, they do have with soy milk – hurrah!). CLASSES ARE IN ENGLISH & SPANISH.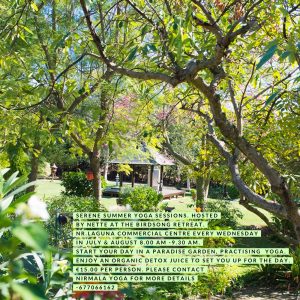 Enjoy a serene Yoga Practice with Nette, set in stunning paradise gardens, followed by a delicious, nutritious, Organic Juice lovingly created by host, Alison. Yoga Style: Healthful Hatha Fusion. Options to challenge yourself or to deeply relax. Time for you. Bring a flask if you want your juice to-go or stay a little while and enjoy the serenity of The Birdsong Retreat.
If you need to relax or want to get fit, enjoy a flowing class or are working towards a specific pose, Las Lomas classes have a variety of options at every level to make sure you can make the most of your practice time. Learning about the Yoga Sutras and how we can apply them to our lives as we journey towards arm balances and inversions, not caring if we ever make it or not! (This idea of not concerning ourselves with the outcome is called Santosha – one of the Yoga Sutras we learn about- and can be simply translated as "contentment for what is".) CLASSES ARE IN ENGLISH & SPANISH.

Please Note – in July & August Tuesdays Las Lomas classes will be held outside (see below)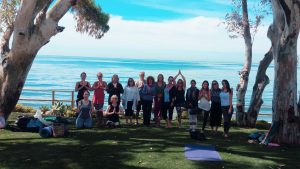 Estepona Beach Classes – Tuesdays at 10am – are open to everyone. Get in touch with nature whilst practising yoga to the sound of the waves under the open sky. Click here to read more about why being beside the sea is so good for you!
There may occasionally be changes to the class schedule so please get in touch to confirm your place
+34 677 066 162

Las Lomas 

Centro Bio

Ananda Mandira

San Pedro Beach