No Two Paths are the Same.
Did you hear the one about when the Roman Catholic Benedictine monk, the Rabbi and the Zen Buddhist monk got together?
It was 1968.. and along with Swami Satchidananda (my teacher's teacher) they co-founded the Center for Spiritual Studies. A place for interfaith understanding.
Swami Satchidananda – known affectionately as Gurudev – created and contributed to a lot of conferences and retreats of this nature.
His motto was:
Truth is One. Paths are Many."

Swami Satchidananda
Swami Satchidananda cofounds an interfaith organization, the Center for Spiritual Studies, with Rabbi Joseph Gelberman (far left), Brother David Steindl-Rast (far right), and Eido Tai Shimano Roshi (not pictured), 1969 [Photo courtesy of SwamiSatchidananda.org]
Find Your Own Path
Recently I read a beautiful piece written by a wonderful fellow yogi.
In it she speaks of the panic she felt at 28yrs of age about the fact she hadn't started a family yet. And how she started to feel her youth slipping away and her body changing. It's a beautiful article imploring women of any age not to feel like they should be on anyone else's schedule.
We have an odd society. A powerful patriarchy that indoctrinates us as young women with the belief that by the time we're 30 we have to have all our shit down. ALL OF IT. Yup, the silent message is that as women we now have the right, the privilege, the obligation to the feminists before us to have it all, do it all & be it all. Career. Financial Stability. Buff Body. Spiritual Outlook. Husband. Kid. Oh yes. The empowered woman has it 'all'.


~ Indra Rai
Read the full article here.
It got me thinking…
Finding My Own Path
In my 20s, from the outside, I had "it all". Cute dog, committed relationship, beautiful home by the sea, corporate job, financial stability, fine dining and wine… lots and lots of wine! I felt so… constricted. Too young to be so tied down. I was finding my wings and didn't want to be caged. I felt young and free and like I had all the time in the world, I wanted to fill it with varied and wonderful things.
And then I blinked – I was 34. And I truly felt old for the first time.
In my teens, I had foreseen myself getting married at 26yrs, travelling the world with my husband. A baby boy at 31 and a girl at 33.
By my early 30s, I'd turned down marriage proposals, said goodbye to great loves who wanted to settle down (away from the peace & freedom I had found) and come up with a thousand reasons not to have children. And it was right for me. But the conditioning was still there. Being reinforced by family and friends – and even complete strangers – who didn't want me to end up "a spinster" (*sigh – see below).
And ok, so maybe that was also the year I found my first grey hair [but, seriously, they do me a favour and add some sparkle to my sullen, winter roots… so I'm actually in love with them, I swear!]
Then at 35yrs, I felt young again!
I remember the day it happened.
When I arrived on the first day at 10am, it seemed as if the mimosas had already been flowing. There were squeals of delight as I knocked on the door and shouts of,
"Hurry, hurry, the yoga teacher is here!"
I told them there was no need to rush – we could start and finish a little later if necessary – and went to set up the mats in the double height sitting room. The enormous opulent rug had plenty of room and and the light refracted down from the suitably decadent contemporary, crystal chandelier hanging above.

Through the floor-to-ceiling windows, I could see everyone out on the deck having possibly the most fun impromptu photo session I'd ever seen. I went out to offer my photographic services.
They all squeezed together laughing and joking in front of the magnificent views – the Mediterranean Sea against a breathtaking backdrop of Africa – for a photo or two… or ten!
They were just as excited for our session. They were the most vibrant, interesting and friendly ladies. A mixture of nationalities, some marrried – some not, some mothers – some not, all aged roughly the same as the birthday girl (give or take a decade).
They were all older than me.
And what a giggle we had! Some were yogis, some brand new to the game but they each found their level and laughed and whooped and supported one another as we created magic that day. The birthday girl had done a little yoga before and I will never forget her face as she extended into an Upavistha Konasana B (from the Ashtanga series, pictured below) for the very first time.
That first session was on her actual birthday. Her 70th birthday.
The love in the room was palpable that day. I fell a little bit in love with all of them.
And I fell in love with what could be – for me – over the next 35years of my life.
My whole life so far, again!
With all the knowledge and wisdom and authenticity I now possessed?
I'd never felt younger and so full of hope in my life!
The wrong Path?
Did I ever imagine I'd be single, childless and teaching yoga in James Bond villian-style villas at 35 years of age?
No, I grew up in the same society as you and Aimee. (Please read her full article if you haven't already!)
Independent women were called "spinsters" back then, usually in the sentence, "You don't want to end up an old spinster." And perhaps, once upon a time – when women had no education, no income and no power – being unmarried might have been less preferable? But you know what, I don't think so. Not for everyone. Another phrase used, "You don't want to be left on the shelf," implying women are commodities to be picked up at the local supermarket, proves the point well enough for me.

There are many paths. Paths are many.

Every one of them is unique. It would not be right for you to live mine nor for me to live yours.
I sleep soundly. Believe me, when I try to walk another's path – which I have done more than once in the past – that is not the case!
Find your own way. That's the right way.
Namaste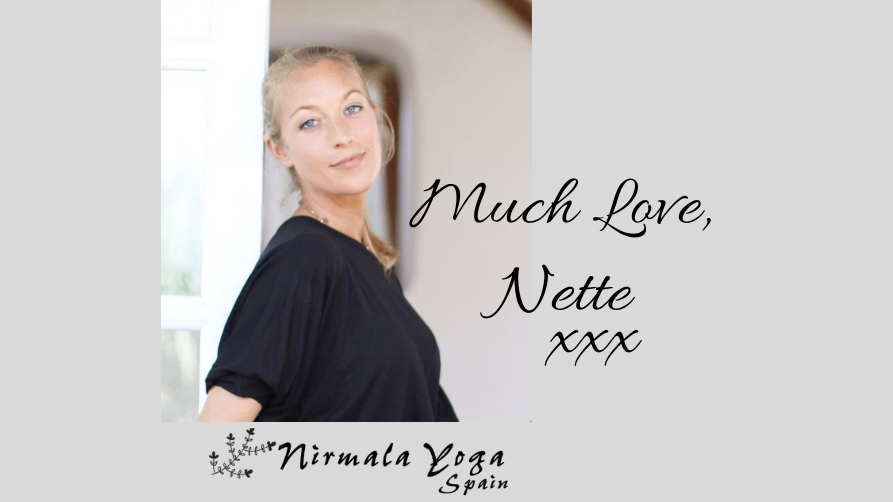 Jeannette Amy (Nette) Hopkinson (BSc Hons Sports & Life Sciences) is a Yoga Alliance certified yoga teacher and Oneness Blessing Giver based in Andalucía.
Follow her on IG @nettenirmalayoga or find her on facebook @NirmalaYogaSpain