Meditation
Q1 – Do you ever have times, days, weeks, even months or years when there are so many thoughts or worries or 'things to do' spinning around in your head that you can't…
Q2 – Do you ever find yourself replaying past events, conversations, mistakes or "would've/could've/should've" scenarios in your mind?
Q3 – Do you ever procrastinate or talk yourself out of doing something that you know would benefit you and enhance your life?

If you answered "yes" to any of these, meditation can definitely help!
Try this 1 minute meditation with me right now!
But please don't think that Meditation is only sitting still and trying to "clear your mind". There are infinite different ways to meditate.
Q4 – Have you ever been so happily engaged in what you're doing, you forget everything else?
If so, you've already experienced a state of meditation!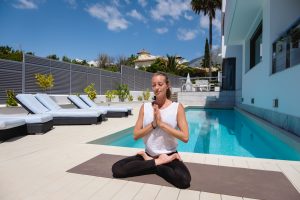 Meditation is not some unattainable, esoteric, mystical thing done sitting only in lotus pose… as pictured 😉
It can be done…
Sitting Standing, Walking, Running, Lying Down, Dancing, Cycling, Swimming, Gardening… the list goes on…

Meditation is both a practice and a state of being.
Anyone can meditate.

And there are plenty of reasons why we all should.
One being that our technological advancements and ever increasingly "bigger, busier, faster, more" western society is creating more and more stimuli for our senses and it is STRESSING US OUT – at the very least, on a neurological level!
Luckily, we also live in an age where there are lots of tools available to make meditation more accessible to everyone, such as:-
A great way to observe the mind in its wanderings is to bring it to focus on something specific and notice each time it strays away. Read more about Awareness of the Mind.
I often like to focus on something I consider useful as well, such as:-
Personal Mantras/Affirmations
If you're new to yoga and meditation, check out the full "Intro To Yoga Series"
Final Thoughts
Make sure to stop and smell the roses (mine are in full bloom in the garden as I write this) and enjoy* each day.

*NB: We're all entitled to have a crappy day, too, and if you want a day to cry or scream or eat gallons of (in my case, vegan) ice cream, wallow away… but then get back up and out and find/do/embrace the things that make you shine again!
Namaste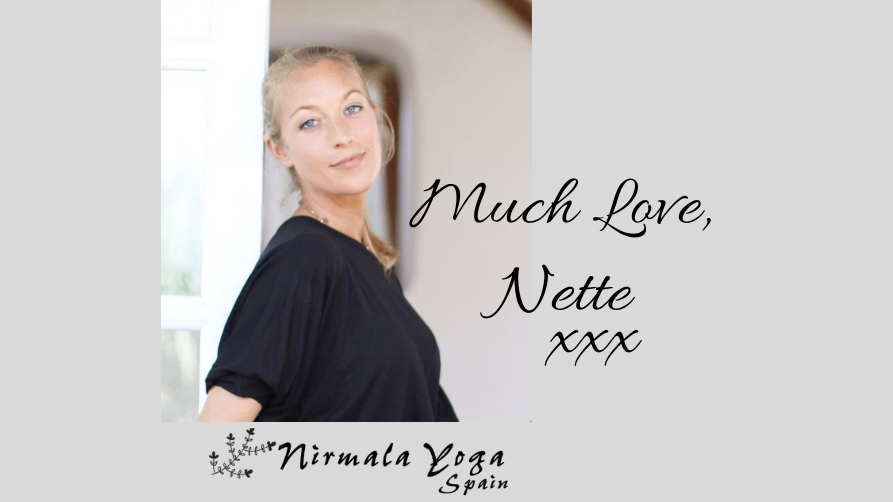 Originally published in the May Nirmala Loveletter, 2018. To sign up for the latest Loveletter, click here.
Jeannette Amy (Nette) Hopkinson (BSc Hons Sports & Life Sciences) is a Yoga Alliance certified yoga teacher and Oneness Blessing Giver based in Andalucía.
Follow her on IG @nettenirmalayoga or find her on facebook @NirmalaYogaSpain