Come Home to Yoga.
"That's how it felt for me. Like coming home." ~ Nette

YouTube Yoga Videos
Practise right now with Nette on the Nette Nirmala Yoga
YouTube Channel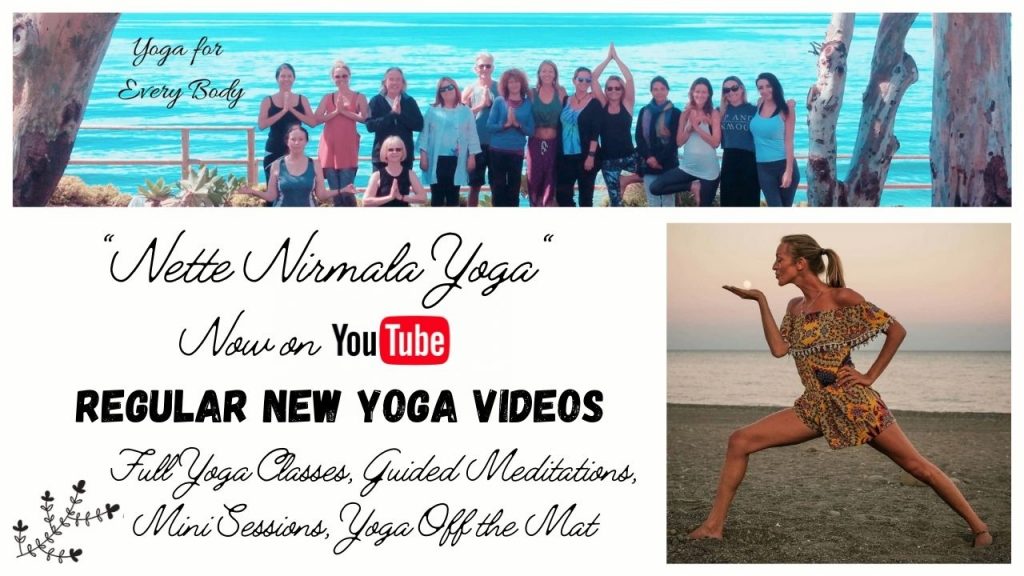 ---
Yoga Classes
Nette offers public and private yoga classes in Estepona, Spain and also online. Classes are suitable for every level, from absolute beginner to experienced yogi. Currently, each week, there are 2 outdoor public classes and 3 online Zoom classes available, along with private classes both in person and online.
Gift Vouchers Available
---
Read More about Yoga
There are also other resources available such as
the Intro to Yoga Series which might interest those new to yoga
and the Applied Yoga Series for those interested in how the ancient wisdom of yoga applies to life today, just as much – if not more – than it did 3000yrs ago.
Or, for a little coffee break, dig into the
Nirmala Yoga Loveletter Archives.
"Thanks, Nettie, for the Joy you bring!"

~ Patty, Spain

And last but definitely not least…
Get inspired with some plant-based recipes and practise Yoga & Meditation with Nette here on this website!