Nette
Jeannette – Nette to friends and students – was born in the UK and, after travelling the world, fell in love with Andalusia.
She's been teaching on the coast since 2014 and classes are available in both English and Spanish.
Body
A competitive athlete from before the age of 11 years, Nette's fascination with the human body led her to graduate with a BSc (Hons) in Sports and Life Sciences from Manchester Metropolitan University 2001. And she hasn't stopped learning since.
Her passion for expanding her knowledge and her dedication to, "Leaving her students better than she finds them," keeps her at the forefront of the movement & health sciences.
Read more about how yoga helped Nette personally to recover from a life-changing car accident here.
"Yoga Heals. We just have to let it."

~ Nette
Heart & Mind
After the suicide of a family friend – and the inheritence of his collection of Psychology books – Nette's fascination with the human mind and emotions led to countless hours of study of Psychology, Neurology, Philosophy, Quantum Mechanics, Theology, World Culture & Religions, Meditation and Mindfulness starting in her teenage years – through her twenties and thirties – to the present day.
I love doing yoga with Nette. As a teacher she is very inspiring, fun and encouraging, no matter what level you are at. I can warmly recommend her for an extensive knowledge and passion."

~ Evelina (yoga teacher)
Yoga Style
Formally trained (& Yoga Alliance certified) in Vinyasa Flow, Hatha Yoga Interdisciplinary, Meditation and Raja Yoga, Nette's classes have an emphasis on mindfulness and healthy alignment.
Often playful, always sincere, classes link breath and movement (vinyasa) in an exploration of body, mind and emotions.
Group Classes are usually based in Vinyasa Flow, with inspiration from studies of Iyengar, Kundalini, Yin, Restorative, Nidra, Meditation and more. Private classes are tailer-made. Read more about Styles of Yoga.
"Nette's approach is wonderfully holistic – and the benefits are manifold. I always feel like a new woman after her class."

~ Sol (CEO & mother of 3)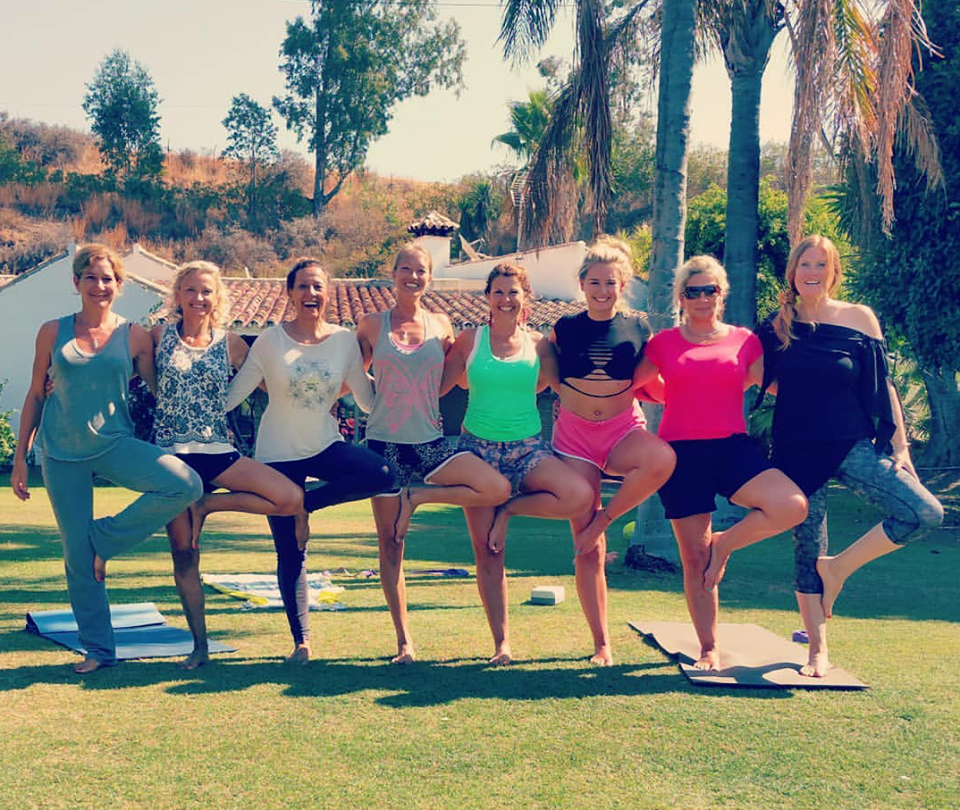 Gratitude is a Great Attitude
Everyone we meet can teach us something if we are willing to learn…
Special thanks to my wonderful teachers, with whom it's been a privilege to learn from in person:-
Petra Lindros ~ My first – and beloved – Mentor.
Kat Sattman ~ My Mentor, Soul Sister and cherished friend.
Carola Polo ~ Iyengar Warrioress
Nalanie Chellaram ~ My beloved teacher, my teacher's teacher & a direct student of Swami Satchidananda.
Vidya Heisel & Alicia Waters of Frog Lotus Yoga.
Thomas Campbell ~ Physicist & Author of My Big T.O.E.
Cat Kabira in Ubud ~ Energy Healing Shaman
Denise Payne – Yin Yoga & Myofascial Release
Punnu Wasu of the Oneness University
Tina Nance ~ Yin Goddess
Tippy Kingston ~ Reiki Master, Mentor, Facilitator & Friend
You all helped and help to light my way so that I may help to light the way for others.
Thank you, thank you, thank you.
Nette