What You Need
Yoga is about feeling better in your body. We all want that, right? But what do you need to start yoga?
While the simple answer is nothing but yourself, you may find the following useful:-
Comfy clothes – Breathable material that you can move in. No shoes required, as yoga is practiced barefoot.
Ladies, be aware that some leggings become rather see-through in the derrière when stretched into Downward Facing Dog. (Men's leggings don't seem to have this issue!)


Supportive underwear to keep things in place may feel more comfortable.

(Although naked yoga is a thing!)
Mats – Starting at around €7 if you buy the material by the metre from a discount shop to… pretty much anything you want to spend! Going for ethically made, sustainable fabrics and/or supporting local businesses is a wonderful idea.
Towel – Even in classes where you're often just staying still, with all that deep breathing and isometric contraction going on, you can work up quite a sweat… especially here in Andalucia in the summer.
Strap (or a tie or belt)
Blocks (or a stack of books)
Bolsters (or blankets)
Water – being dehydrated isn't going to leave you feeling better and that's what this is all about!
Really, though, all we need is a little space and a little time…
Space
Head along to a local yoga class or find somewhere you can be undisturbed at home or out in nature. If you're new to yoga, I would definitely recommend beginning your practice with a qualified teacher. This is especially true if you have any conditions or issues in your body and be sure to chat to them about it before the session. However, if your doctor has said you're fit for yoga and you can't make it to a class, there are some wonderful videos online. I love the "30 Days of Yoga with Adriene" series as a way to bring awareness and get your body moving if you really can't get to a class.
Time
The more time we devote to the practice, the faster we see changes but it's about regularity. Five minutes a day every day is going to have a greater impact on your body (and mind!) than a 90minute class every 2 months… But it's also about consistency so either, continued over a long time, will effect change!
My personal goal is to help everyone I can to find a daily practice that fits their lifestyle and needs.
That could be as simple as performing one pose each day
eg: if you want to be able to touch your toes, performing "rag doll" each morning will encourage lengthening of both the hamstrings and the lower back and you will see results.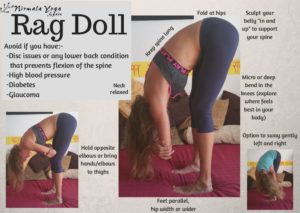 If you're looking to release tension in the neck and spine or relieve lower back pain the same pose each day will help this, too.
Focus on what you're doing (and how it feels) and add deep breathing with a slower exhalation so that it becomes a de-stresser as you work on the meditative aspects and even change your body chemistry.
All that from just this one pose!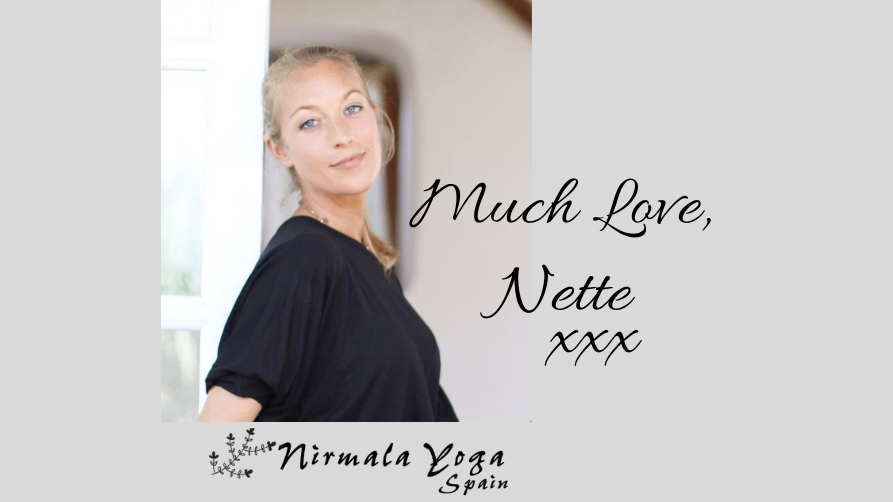 Find out more about me here.
Originally written for and published on the Things 2 Do Marbella website October 2016.
Jeannette Amy (Nette) Hopkinson (BSc Hons Sports & Life Sciences) is a certified yoga teacher and Oneness Blessing Giver based in Andalucia. Follow her on IG @nettenirmalayoga or find her on facebook @NirmalaYogaSpain